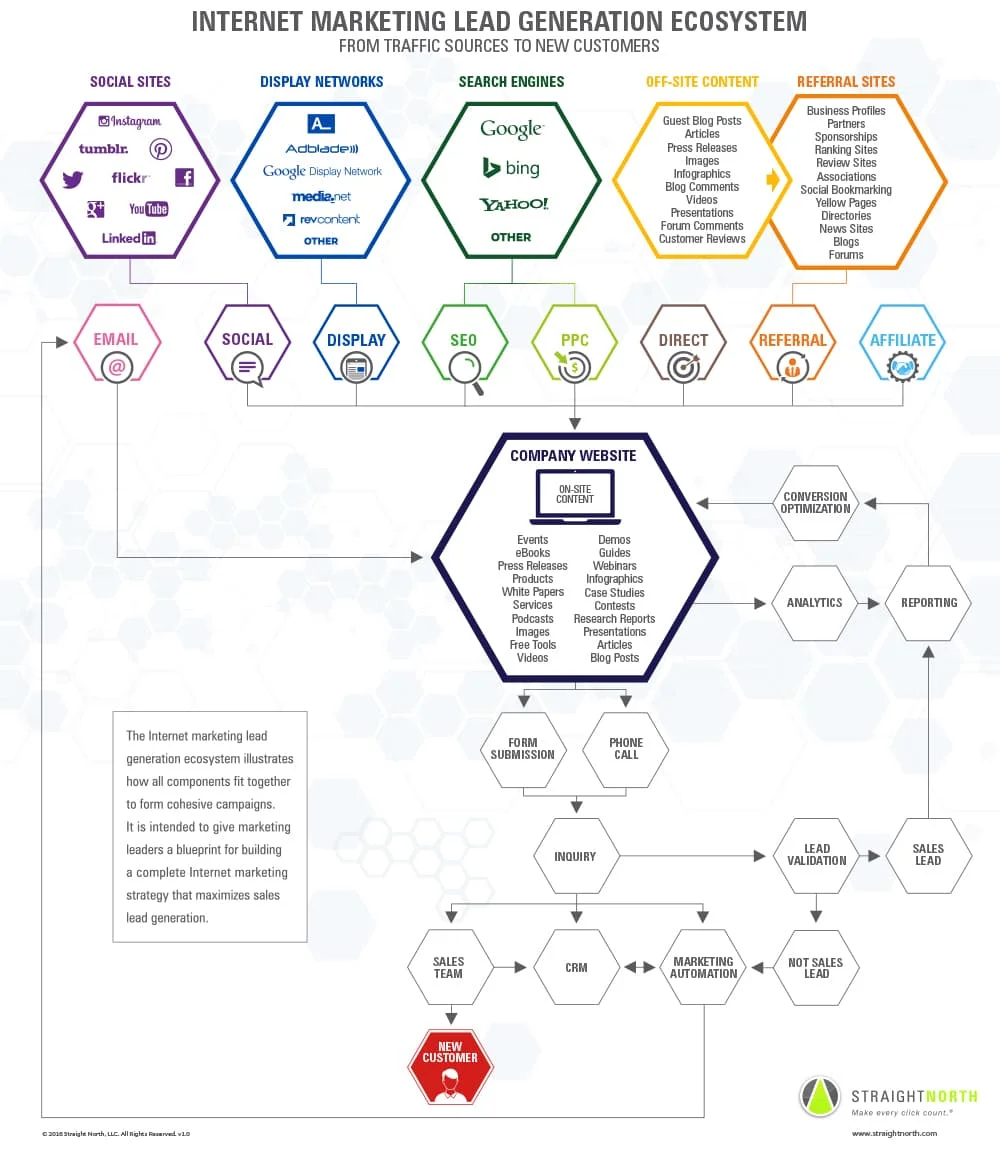 Infographic created by Straight North, a PPC services provider
If you are contemplating or have recently begun online lead generation marketing — SEO, PPC, email and/or social media — you may be surprised at how complicated and technical it is.
The bad news is, online marketing is getting more complicated by the month, as technology and the sophistication of big players evolve. The good news is, there are tools to help you understand it and take advantage of its great potential to boost your revenue.
One such tool is the infographic below, the Internet Marketing Lead Generation Ecosystem. Created by PPC services provider Straight North, it was originally designed to be a training tool for our staff. It proved to be so helpful that we polished it and made it available to the public.
The infographic is a visual snapshot of the entire terrain of lead generation marketing, from traffic sources (top portion) to back-end campaign management processes (bottom portion). A few things you may want to consider when reviewing it:
Are we considering all the possible online traffic sources?
Do we have a plan to test the many types of lead generation marketing (see the second tier of hexagons)?
Does our website utilize the best options for content, such as videos and case studies?
Are we tracking form and phone leads, so we know which marketing campaign produced them?
Do we validate inquiries, to separate sales leads from non-lead conversions such as misdials, spam and customer service calls?
The infographic can serve as a model and basis for discussion to identify opportunities for new marketing approaches, as well as gaps and disconnects in your existing campaign management. We hope it helps you fill your lead pipeline to the brim!
Writing by:
Brad Shorr, a Director of Content Strategy at Straight North, an Internet marketing company in Chicago that specializes in SEO, PPC and web design. With more than 25 years of sales and marketing experience, Brad has been featured on scores of major online business publications including Moz, Entrepreneur and Forbes.